Alfa Racing With Bob Hine
Bob Says "Racing Alfa Romeos Is Exhilarating!"
The Alfa Romeo is a unique and truly magnificent automobile. They have a very storied past. Alfas also boost of having one of the most passionate followings of any automobile ever built. The Alfa Romeo is legendary for it's beautiful styling and looks. That is definitely not where the good stuff ends. Alfa Romeos were created with both racing and traditional driving needs in mind.  They are known throughout the world for their ability to deliver eye popping high performance results on the race track. Alfas are solid through the corners and deliver head jerking acceleration into the straight sections of the track. An Alfa Romeo will easily compete with the other top high performance cars on the track in the corners or the straight.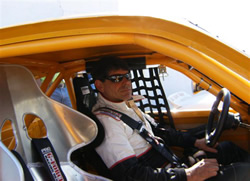 Our owner, Mr. Bob Hine, is an avid Alfa Romeo enthusiast. Bob owns and number of Alfa Romeos and actually races two of his Alfas at Road Atlanta. As Bob like's to say, "It's one thing to talk about your Alfa Romeo's performance. It's another thing to put your own money where your mouth is and race your Alfa Romeo."
As part of the Sports Car Club of America (SCCA), Bob regularly runs two of his Alfa Romeos, pictured here on this page. Bob has been racing Alfas for quite a few years. As you can see from the photos, Bob has added all the necessary features required to safely race his cars. If you are a racing enthusiast and need help setting up your Alfa Romeo, we encourage you to reach out to Bob Hine and his team. They can help you set up your Alfa for optimal track performance.
In case you are wondering. Yes the claims are true! Bob Hine regularly beats Porsches and Vettes with his 136 lap times at Road Atlanta. We invite you to come out and watch Bob race some time. That will provide you with a great opportunity to see just how well the Alfa Romeo performs, once it's been tuned up by Bob Hine and his team at Alfa Atlanta.